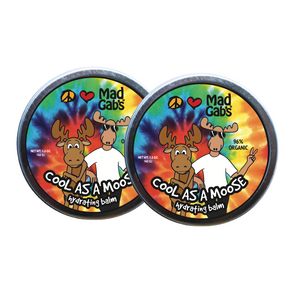 Peace, Love & Moose--Tie Dye Hydrating Balm Two Pack (Cool As A Moose & Mad Gab's Collab!)--UNSCENTED
Peace, Love & Moose!
Welcome to the whimsical brainchild of two of Maine's favorite companies---us, of course,  (spreading smiles since 1991!) and Cool as A Moose--Maine's favorite retailer for all things Moose-y and Maine-y.
Hydrating, happy-making balms for all of your parched patches: hands, feet, elbows, sun-drenched skin. Great all year long, for all ages and especially for folks with sensitive skin. Unscented!
Ingredients: Organic Olive oil, Organic Beeswax, Organic Shea Butter, Jojoba and Vitamin E. 
---
We Also Recommend